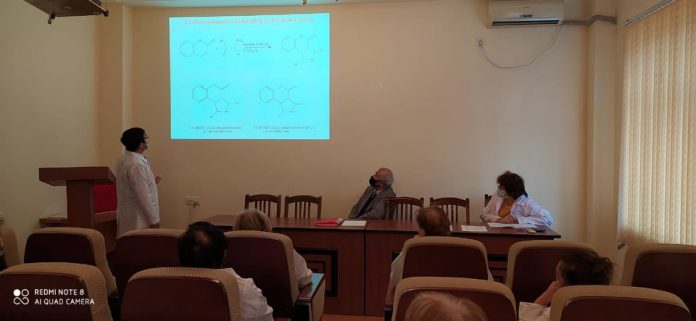 The Scientific Council of
Academician A.Guliyev Institute of Chemistry of Additives of Azerbaijan National Academy of Sciences  heard reports on the scientific and scientific-organizational results of departments and laboratories for 2020. The director of the institute, academician Vagif Farzaliyev, informing the participants about the agenda, said: "A significant part of the reporting period in connection with the coronavirus pandemic coincided with a special quarantine regime. However, this restriction did not essentially affect the scientific activities of the institute, including researchers. As a result of the Institute's activities 5 major results were achieved, 4 of which were fundamental theoretical and 1 – applied work. During this time, 15 articles of the Institute employees were published in influential foreign journals with the impact factor. Scientists from all over the world cited 217 articles based on the results of research conducted by employees. At the same time, during the reporting period, our scientists received 19 patents, which is the highest figure in recent years."
Then the heads of 12 laboratories, 3 departments, 1 experimental station, 2 public organizations of the institute made reports. The heads of the laboratories informed in detail about the work done in the reporting year on the synthesis and research of additives with various functional effects on lubricating oils, the development, improvement and application of their technologies in production. In addition, they announced the development of high-temperature oxidation inhibitors for synthetic oils, the development and recommendation of new types of technologies for the synthesis of multifunctional additives, as well as patents and publications of the laboratory staff throughout the year.
Deputy Director for Research, Dr.Sc.Chem., Associate Professor A.Sujayev, Scientific Secretary, Ph.D.Chem.  M.Safarova, heads of laboratories, Dr.Sc.Tec., prof.H.Javadova, Dr.Sc.Chem., prof.P.Mamedova, Ph.D.Chem., Associate Professor E.Isakov and others exchanged views.
Academician V.Farzaliyev found the reports acceptable and gave recommendations and suggestions for promising scientific work to be done next year. The academician said that future applied research needs to be adapted to the country's economy.
As a result, it was decided to approve the reports.