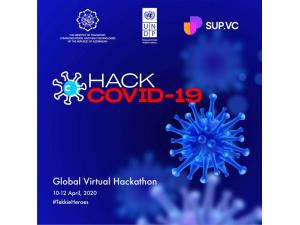 The first global virtual hackathon was held in Azerbaijan to combine technological solutions to combat the coronavirus COVID-19 pandemic, as well as to support the "Stay at Home" motto. The winners have already been announced.
It is no coincidence that the competition, which gathered a large audience, along with the local mass media, also attracted special attention of foreign media, where articles about the hackathon were published.
Some articles published in a number of foreign media can be found at the following links:
https://bit.ly/2XvBhJj
https://bit.ly/3egqysf
https://bit.ly/3a3uMAe
It should be noted that a total of 25 ideas won the right to participate in the competition. Given the particular interest in the competition and the relevance of the topic, we share information about all participating teams from different countries and the solutions they presented.
Participants were grouped into 25 teams and worked on the following solutions:
Team-1  DF19 (Brazil) has created an interactive map that shows cases of coronavirus infection in the Brazilian Federal District and can be used to keep people away from potential risk areas.
Team-2 CoughFree (Norway) has worked on a cough detection tool using deep neural networks.
Team-3 Zebrafish (Brazil) has developed equipment for rapid testing for coronavirus antigens using zebrafish.
Team-4 Immunitourism (Pakistan) is aimed at developing a new concept for the post-pandemic tourism industry.
Team-5 Healthcare (Ukraine) has worked on the creation of a digital platform that connects health institutions with the public.
Team-6 Javid-19 (Azerbaijan) has developed a project to create opportunities for isolated people to buy goods and services with advance payment and discounts through vouchers in support of small and medium-sized businesses.
Team-7 Robot Nurse (Turkey) worked on a mobile robot that would help nurses with routine tasks such as distribute medications, measuring blood pressure, temperature, and oxygen levels.
Team-8 Kids Mask (UK) has started to develop N95 masks for children that can be reused and printed on a 3D printer.
Team-9 Khalmax Robotics (India) has focused on the idea of testing the use of ultraviolet rays in the form of lamps for disinfection of offices and homes.
Team-10 X-RAY (Greece) has developed an application that detects coronavirus through chest X-ray scanning.
Team-11 Crisis Heroes (Poland) has introduced a virtual platform that brings people and organizations together to help each other during a pandemic.
Team-12 Nanomed (Turkey) has worked on a mobile biosensor that can be used to diagnose and treat coronavirus.
Team-13 Waternizer (Ukraine) has focused on the development of devices that will quickly turn water into a disinfectant and fit in your pocket.
Team-14 DataCovid (Brazil) has developed a device designed to inform people about the current state of certain public health services.
Team-15 HelpAround (Azerbaijan) has developed an application that will help speed up diagnostic technologies.
Team-16 DonorUA (Ukraine) has developed a technological service that allows blood donors to order free taxis from their homes to local blood donor centers.
Team-17 Covid-Bot (the Netherlands) has worked on a chat bot to provide answers to users about COVID-19 in a reliable and simple way.
Team-18 VoiceMed (Estonia) has developed an easy-to-use artificial intelligence-based coronavirus detection tool that allows you to check for the possibility of infection by recording a person's voice and coughing samples through the phone's microphone.
Team-19 Octopi (Azerbaijan) has focused on researching ways to help industry workers to acquire new skills while staying at home.
Team-20 CardioAI (Ukraine) worked on the idea of remote monitoring ECG, which provides people with safe, affordable and high-quality analysis in their homes, thus facilitating the work of health services.
Team-21 E-traveling (Israel) offers people a new travel experience from home.
Team-22 Fight Pandemic (Brazil) has explored new ways to alert and inform the public in the event of emergency, as well as to collect anonymous responses through close analysis of geographical coordinates.
Team-23 CoronaCheck (Turkey) has focused on an artificial intelligence model based on X-ray and computed tomography data to accelerate the diagnosis of COVID-19.
Team-24 E-museums (Northern Macedonia) has developed a platform for online visits to museums during a pandemic.
Team-25 MusicCovid (Nigeria) has tried to work out an entertaining and educational online music program to inspire and motivate people during the pandemic.
It will be recalled that the first place went to the team Crisis Heroes from Poland, the Azerbaijani team Javid-19 took the second place, and the Brazilian team Zebrafish took the third place.
The competition was jointly organized by the Ministry of Transport, Communications and High Technologies, the United Nations Development Programme and the Acceleration Center SUP.VC.
Many national partners and sponsors, including Pasha Bank, SOCAR AQS, Ministry of Ecology and Natural Resources, Ministry of Education, State Committee on Family, Women and Children Affairs, ABAD – Easy Support to Family Business, State Tourism Agency, Azerbaijan Tourism Board, Center for Public Health and Reforms of the Ministry of Health, AzCloud, AzInTelecom LLC and Data Processing Center joined the hackathon.
Organizations and companies such as Amazon Web Services, European Startup Network, Startup Grind, Hackquarters, Tekwill, Astana Hub, Fongogo, Silicon Valley In Your Pocket, Start-East, MeOut "," Startup Weekend " were among international partners .