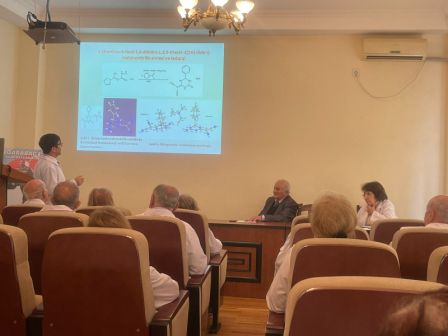 Reporting meetings on the results of scientific and organizational activities of laboratories and departments operating at academician Ali Guliyev Institute of Chemistry of Additives  of the Ministry of Science and Education of the Republic of Azerbaijan in 2022 have begun.
Academician Vagif Farzaliyev, Director General  of the Institute, noted that the scientific activities of the institution  this year were successful: "This success consists in achieving fundamental and applied important results, publishing them in prestigious international databases, archiving them in journals with a high impact factor, expanding international cooperation, training highly qualified personnel, integrating science and education, popularizing science and attracting talented youth to science."
Then the reports were heard in the presentation of the heads of laboratories – Doctor of Technical Sciences Elmira Nagieva, Doctor of Chemical Sciences Parvin Mammadova, Doctor of Technical Sciences, Professor Parvin Mammadova, Ph.D. Veli Kazimov, Elkhan Isakov and others. In the reporting year, the heads of laboratories gave extensive information on the work done in the direction of targeted synthesis and study of the mechanism of the functional action of highly effective physiologically active compounds, including drugs, organic reagents for various purposes and composite materials, using the possibilities of complex organic synthesis and computer modeling. In addition, information on the work carried out in connection with the creation of high-temperature resistant inhibitors of the oxidation of synthetic oils, new types of multifunctional additives and special-purpose oils, the definition of their areas of application, as well as patents obtained by laboratory staff, and scientific papers published in during the year was provided. Executive Director of the Institute, Associate Professor A.Sujayev, Academic Secretary,Ph.D. M.Safarova, heads of the laboratory, professors H.Javadova, O.Nabiyev, Sh.Aliyev, M.Musayeva and others exchanged views. Academician V. Farzaliyev considered the reports acceptable and gave his recommendations and proposals on promising scientific work to be carried out next year.