STATE PRIZES AND AWARDS OF EMPLOYEES
Academician Ali Musa oglu Guliyev
Twice laureate of USSR State (1948, 1950)  and Azerbaijan Prizes (1970);  
Twice "Red labor banner" orders (1948, 1959), four times "Badge of Honor" (1944, 1952, 1974, 1976), medals; "Honored Worker of Science" honorary title (1978)
Academician Izzet Mirzaaga gizi Orujova
Azerbaijan State Prizes laureate; "Red labor banner", "Badge of Honor", "October revolution" orders; medals; "Honored Worker of Science and Technics" honorary title; her name has been entered  in the Honorary Book of Azerbaijan
Academician Kamil Ismayil oglu Sadikhov
Azerbaijan State Prizes laureate(1970); "Badge of Honor"(1986), "Shohret" (2004) orders; medals
Doctor of Technical Science Govhar Ali gizi Zeynalova
Azerbaijan State Prizes laureate (1970); "Badge of Honor"order; medals
Academician Vagif Mejid oglu Farzaliyev
"Honor"order (2005); medals; "Honored Worker of Science of the Azerbaijan Republic" honorary title (2009); Academician Yusif Mammadaliev Prize (2017)
Doctor of Chemical Science, professor Mirza Mammad oglu Movsumzadeh
"Honored Worker of Science of the Azerbaijan Republic" honorary title (2005); «Shohrat» order (2015),  medals
Doctor of Technical Science, professor  Hagigat Aliashraf gizi Javadova
"Taraggi"medal of the Azerbaijan Republic (2005), medals 
Doctor of Philosophy in Technics Faramaz Maharram oglu Asadov
"Honored Engineer" honorary title(2010)
Doctor of Chemical Science, professor Sabir Ahmad oglu Mammadov
"Taraggi"medal of the Azerbaijan Republic (2015)
Doctor of Philosophy in Chmistry, senior scientist Mehpara Rasul gizi Safarova
"Taraggi"medal of the Azerbaijan Republic (2015)
Doctor of Philosophy in Technics Kamal Teymur oglu Kerimov
"Honored Engineer" honorary title (2015)
Beylyar Ibrahim oglu Abdullayev
"Honored Engineer" honorary title (2015)
In the patent competitions  conducted in 2013, 2014, 2016, 2017 and 2018 by the State Committee of the Republic of Azerbaijan for Standardization, Metrology and Patents  I-V, three patents (for 2013 – i2012 0037; 2014 – i2013 0046,  2016 – İ2015 0075, 2017 – İ 20160021 and 2018 – I 20160097) of the Institute were awarded  second (2013– 2017) and third (2018) degree awards.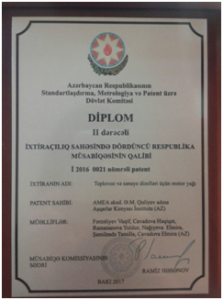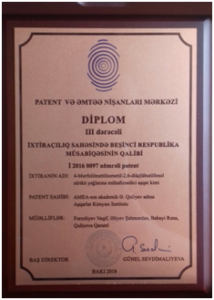 INTERNATIONAL PRIZES
For three years (2001-2003) in succession the Institute was awarded "Gold category", "Platinum category" and "Brilliant category" international prizes for achievements in the field of development of the quality, science innovations and new technologies by "Initiative Directions of Business" international organization.
| | | |
| --- | --- | --- |
| Gold Category | Platinium Category | Brilliant Category |
In 2009 director of the Institute academician Vagif Farzaliyev was awarded "Academician N.M.Emanuel's memory" medal and Diploma by International Charitable Foundation «Science and Partnership», Russian Academy of Sciences and M.Lomonosov Moscow University due to the results of the fundamental research carried out by him in the field of antioxidants.
In 2011 academician V.Farzaliyev was awarded one of the most prestige awards  – exclusive Britain award «QUEN VICTORIA COMMEMORATIVE MEDAL» by Nomination Committee of the Europe Business Assembly as one of leaders  made contribution to the national economy and positive public processes of the present.
In 2013 academician V.Farzaliyev was awarded the most prestige award of the European Union – Gold Medal and Quality Diploma by the European Scientific-Industrial Chamber. Academician V.Farzaliyev got this prize for his quality professional activity and studies conducted by him in the field of synthesis of efficient additives of different purpose improving exploitation properties of lubricating oils, fuels and special liquids.
Head of the laboratory of the Institute, professor Parvin Mammadova was awarded the first place and the Prize of Islamic Development Bank for her scientific work "Bioremediation of oil-contaminated soils in Azerbaijan" in the competition on scientific research held among 57 member countries by the decision of 38th annual session of the Board members of Islamic Development Bank in Dushanbe, Tajikistan. She is the first female scientist in Azerbaijan who has been awarded the prize.
The head of the institute's laboratory, associate professor Afsun Sujayev, being the author of two articles highly  cited in the Web of Science in 2018, received the award "Web of Science Azerbaijan-2018" from the Science Development Fund under the President of the Republic of Azerbaijan together with Clarivate Analytics. It should be noted  that the name of A.Sujayev is included in the rating of 1% of scientists in the world who received the largest number of links in this category.