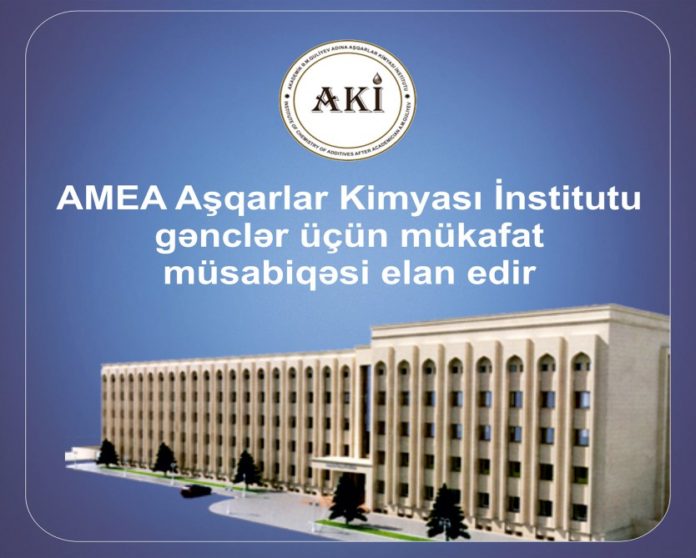 Academician A. Guliyev  Institute of Chemistry of Additives  of Azerbaijan  National  Academy of Sciences will hold next competition "The best research work" among young scientists, doctoral students, dissertators and masters  jointly organized  by  the primary territorial party organization of New Azerbaijan and  the Council of Young Scientists and Specialists.  According to the chairman of the council, associate professor Afsun Sujayev,  this scientific competition, dedicated to the 97th Anniversary of the birth of national leader Heydar Aliyev and the 75th Anniversary of Azerbaijan National Academy of Sciences, will be held for the 5th time.
He noted that during the competition,  taken  place on April 20-30 and  organized with the aim of raising the level of research skills of young scientists and specialists working at the institute, doctoral students, dissertators and masters, developing  their speeches, candidates will present reports on the most important results of their research for the past year.
Those wishing to participate in the competition should submit the titles of their reports to the Council of Young Scientists and Specialists of the Institute within 10 days.
Sujayev noted that at the same time there would be held a competition for the youth " Academician Ali Guliyev Award", dedicated to the 55th Anniversary of the Institute of Chemistry of Additives of ANAS.
In accordance with the regulations this award may be given to young scientists working at the institute and demonstrating high scientific results.
The chairman of the Council noted that selection of candidates will be based on several criteria. Thus, taking into account the scientific and practical significance of the results obtained by the candidates, such criteria as publication of an article in a prestigious foreign journal (high impact factor),  a presentation on  an international conference , getting an important patent , citation.
Based on the final decision of the Expert Commission, winners will be determined in the 1st, 2nd and 3rd places in the competition "The best research work", as well as one winner in «Academician Ali Guliyev  Award" and  awarded diplomas and prize money.
Sujayev noted that due to the quarantine regime in Azerbaijan in connection with the coronavirus pandemic, the documents for both competitions will be accepted online. In other words, if the quarantine regime is extended, these measures will not be postponed, and even the presentations of young people will be passed online through the Zoom platform.