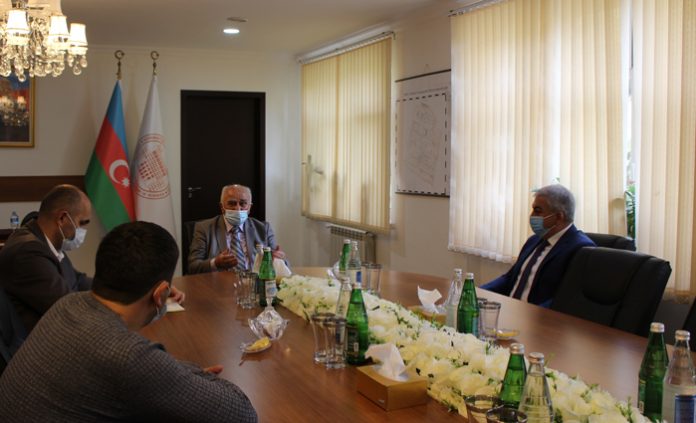 A meeting with the secretary of the Expert Council and member of the Supervisory Board, director of the Institute of  Chemistry of
Additives, academician Vagif Farzaliyev was held in the High Technology Park (HT Park) of ANAS. The meeting was attended by HT Park Director Vasif Abbasov, Deputy Director Zahir Nasibov and Deputy Director of the Pilot Production Plant Sakhavat Rustamov, a resident of the organization.
The purpose of the event was to discuss the current state of the production of special lubricants, the organization of production and prospects. Academician V. Farzaliyev spoke about the research work carried out at the Institute of Chemistry of Additives for the development of lubricants for various purposes (motor, transmission, hydraulic, etc.) that meet modern requirements and standards, emphasizing that lubricants were produced at the Experimental Production Plant. Speaking about the importance of special lubricants for our country in the current conditions of war, Farzaliyev said that organizing the production of these materials in the country was one of the most pressing problems.
Then the director of HT Park V.Abbasov noted that the experimental production plant, which was a resident of his organization, had a technological base in accordance with modern standards, and the lubricants produced were used in a number of organizations in the republic. The director said that, according to the instructions of the President of ANAS, academician Ramiz Mehdiyev, special-purpose lubricants made on the recipe by the Institute of Chemistry of Additives and produced by the plant were sent to the military units in the Terter and Fizuli regions. V. Abbasov noted that if necessary, HT Park would organize the next shipment of these products to the front line.
The parties also exchanged views on the organization of export of special-purpose lubricants used in the defense industry to other countries, discussed prospects.