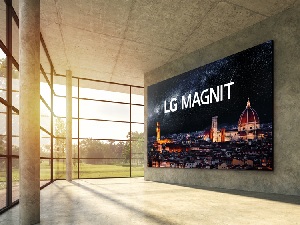 LG Electronics announced the availability of the giant Magnit TV in key markets, with the device released in Europe, the United States, Asia, and the Middle East.
The panel has a diagonal of 163 inches or 4.14 meters. 4K resolution is provided – 3840 × 2160 pixels. The webOS operating system is used as a software platform.
Magnit uses MicroLED technology, which uses microscopic LEDs that are no more than a few microns in size. These panels do not require color filters or additional lighting, while still providing a stunning visual experience.
The device has received LG's proprietary Black Coating, which improves contrast and color reproduction, as well as protects the tiny LEDs from moisture, dust, and external influences.
The TV has a modular design: the panel is formed from blocks with dimensions of 600 × 337.5 × 44.9 mm. This makes it easy to transport and mount the huge panel.
Magnit is expected to appeal to corporate customers and film connoisseurs with a tight wallet. The price of the new item was not disclosed.