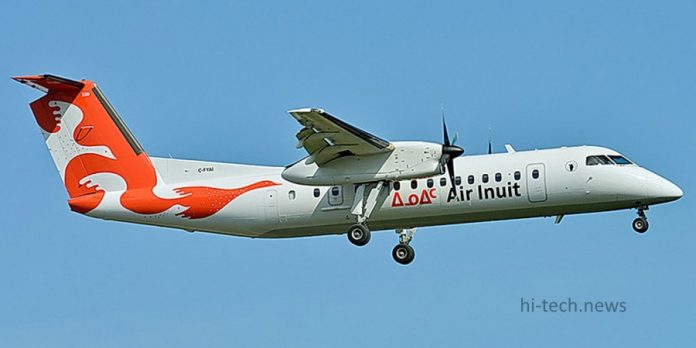 Redmond, Wash.-based MagniX says it's partnering with a Los Angeles startup called Universal Hydrogen to retrofit 40-passenger regional aircraft with carbon-free, hydrogen-fueled electric powertrains.
The partnership opens up a new frontier for MagniX, which is already involved in flight tests for all-electric versions of smaller airplanes such as the de Havilland Beaver (for Vancouver, B.C.-based Harbour Air) and the Cessna Grand Caravan.
This time, MagniX and Universal Hydrogen aim to transform the de Havilland Canada DHC8-Q300, better known as the Dash 8. The Dash 8 is a time-honored twin turboprop traditionally used for commercial regional air service. If the project succeeds, the lessons learned can be applied for the development of retrofit conversion kits for the wider ATR 42 family of aircraft.
Universal Hydrogen's plan for the Dash 8 calls for MagniX to provide an electric propulsion system in the 2-megawatt class for each wing, powered by hydrogen fuel cells. MagniX has previously developed electric airplane motors in the range of 280 to 560 kilowatts.
The conversion is expected to reduce seat capacity from 50 to 40 passengers.
Hydrogen fuel-cell power systems in cars and airplanes are meant to address the challenge of climate change by providing a carbon-free fuel source. Today, commercial hydrogen is typically produced in the course of processing fossil fuels, but it can also be made through solar-powered electrolysis or biological production.
Universal Hydrogen is working on safer and more efficient systems for transporting hydrogen on trucks and trains in Kevlar-coated pods. "We want to basically turn hydrogen into dry freight," Paul Eremenko, the company's co-founder and CEO, told Bloomberg News last month.
"There is a clear need for a step change in emissions reduction in commercial aviation, and hydrogen-based, carbon-free power is the future of the industry," Eremenko said today in a news release. "When looking for our propulsion partner, MagniX stood out as a clear proven leader with a track record of delivering the best in aerospace-grade electric propulsion."
MagniX, a subsidiary of the Singapore-based Clermont Group, moved its headquarters to Redmond from Australia two years ago. In a statement, MagniX CEO Roei Ganzarski said his company is looking forward to working with Universal Hydrogen to "bring scalable, proven technology to the next level of electric aviation."
"Universal Hydrogen, through its hydrogen transport and distribution infrastructure solution, is on a path to change the way regional flight is achieved and transform it from being powered by decades-old, expensive, polluting technology to low-cost clean solutions," Ganzarski said. "The MagniX team is inspired by the synergies between our mission and that of Universal Hydrogen."