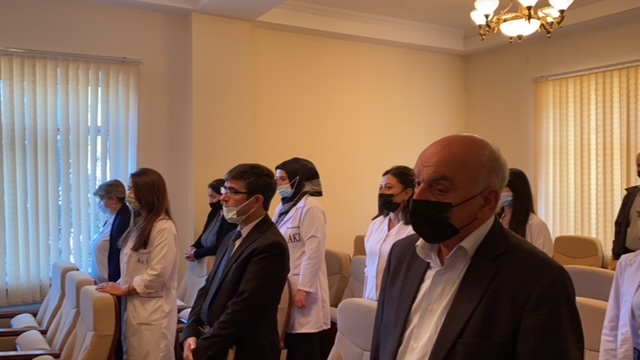 Today, the First Territorial Organization of the New Azerbaijan Party (NAP) of the Institute of Chemistry of Additives of ANAS (ICA), the Council of Young Scientists and Specialists and the Free Trade Union Committee organized an event on the theme "Either win, or become a martyr, or become a veteran!" dedicated to September 27 – Remembrance Day ".
Speaking at the ceremony, which began with a minute of silence in memory of the martyrs of the Patriotic War, the institute's director general  Vagif Farzaliyev said that September 27, included in the calendar as a tribute to the memory of the servicemen who died to ensure territorial integrity, the liberation of the occupied lands during the Second Karabakh war, will never erased from the memory of our people: "Because today is the day of remembrance of our martyrs, on the other hand the day of pride. Because today is the day when we began to liberate our lands, which were occupied for many years, and in a short time fulfilled this mission thanks to our heroic sons. These patriotic young people did not leave this problem for future generations. "
V. Farzaliyev said that we did not believe in the return of lands peacefully: "Even because of the ambivalent approach to this conflict in the world, we believed that our people would not be allowed to liberate Karabakh and adjacent regions with the help of war. However, the purposeful policy pursued by the Supreme Commander-in-Chief, President Ilham Aliyev, and the support of fraternal and friendly countries allowed us to destroy the enemy and liberate our lands, albeit by force."
Noting that the institute headed by him served in providing our army with strategic products during the First Karabakh war, he said that during the 44-day the Second Karabakh War, close relatives of the institute employees voluntarily went to the war and became veterans: "In addition, fulfilling their civic duty, we regularly provide financial support to the Fund for Assistance to the Armed Forces, the Yashat Fund and the Karabakh Revival Fund, and we will continue to do so."
Chairman of the Council of Young Scientists and Specialists of the Institute of Chemistry of Additives Ph.D. in Chem. Sabiya Osmanova delivered  presentation "Either win, or be a martyr, or be a veteran!" at the event.
Veterans of Karabakh Teymur Imanov and Telman Miriyev shared their impressions of the war, talked about the war, the solidarity and consolidation of the people, the high attention and care of the state and the people.
The executive director of the institute, member of the NAP Board, Dr.Sci. in Chem. Afsun Sujayev, chairman of the Women's Council of the ICA  Professor Agigat Javadova, the chairman of the Council of Veterans of the ICA, Associate Professor Nusrat Aliyev and others stressed the importance of the Great Victory in the Patriotic War.
In conclusion, the veterans of Karabakh were presented with gifts.