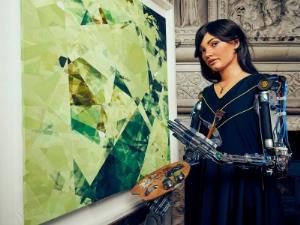 ART exhibitions open in Oxford every week, but this one might be the most surprising yet, as all the work on display was created by a robot, who will now appear in public for the first time.
Ai-Da, the world's first ultra-realistic AI humanoid robot artist, is to open her solo exhibition Unsecured Futures at Oxford University on June 12, and the exhibition will also mark Ai-Da's first public appearance and grand unveiling.
Ai-Da, the invention of gallery director Aidan Meller, is the first ultra-realistic robot capable of drawing people from life using her eye and a pencil in her hand.
Using AI processes and algorithms developed by scientists at Oxford University, Ai-Da's ability to draw and paint from sight has never been achieved before and makes Ai-Da an artist in her own right.
Her solo exhibition will present a selection of Ai-Da's artwork including drawing, painting, sculpture and video art.
It aims to explore the boundaries between AI, technology, and organic life.
Currently Ai-da's medium is pencil and pen, and she creates sketches in a human style.
She uses facial recognition technology to draw human faces, and she will also draw animals and plants.
In time, she will use paint, and also clay to create pottery pieces.
In addition to her drawing techniques, she is also a performance artist, taking part in art performances and art videos. She reads aloud using her own personal voice.
The drawings included in the exhibition pay homage to a number of world-famous scientists, including Alan Turing and Ada Lovelace, who was the first female computer programmer in the world and is Ai-Da's namesake.
Ai-Da has portrayed them by using the camera located in her eye to scan images of the scientists and then sending messages to her robotic arm to map out their facial features on paper.
Mr Meller previously told this newspaper: "I'm thrilled to launch Ai-Da, the first ultra-realistic AI robot artist.
"She can draw your portrait, and takes part in performance art.
"New technologies are changing the world rapidly, offering us new ways to explore art.
"Ai-Da is a figurehead of a new art movement, which seeks to engage people to think and talk imaginatively about where we want our future to be going."
The exhibition will also feature large scale sculptures that are based on Ai-Da's drawings of a bee, drawn from a ground-breaking micro-CT scan of a real-life bee.
The sculptures have been created using AI processes developed by professors and students and then rendered by a computer scientist based in Sweden.
Video works showing AI-generated poetry created from prison literature, and a homage to Yoko Ono's 1965 work Cut Piece, will also be presented during the exhibition, showing Ai-da's speaking and reading skills.
The exhibition will take place at St John's College, The Barn Gallery, St Giles, Oxford, from Wednesday, June 12 to Saturday July 6, between 10am and 5pm.