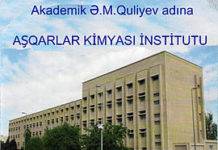 12 of all research works implemented at academician A.Guliyev Institute of Chemistry of Additives of ANAS during 2018-2020  were directed to the application. According to the Institute, the main applied works for the real economy in the reporting period were the creation of the "Depressor-AKI" additive, the development of regulatory and technical documents to ensure its production and consumption, and the organization of production; preparation of a composition that ensures the required freezing point of diesel fuel using TC-1 fuel, super-antigel and "Depressator-AKI" additive created at the institute; the use of special purpose motor oil; development of waste oil regeneration technology; development and application of a drilling reagent based on agricultural waste, used in drilling oil and gas wells.
At the same time, a physicochemical analysis of samples of oils and additives, sent by orders of various state and private organizations operating in the country, was carried out, and technical specifications were prepared.
Also, the institute provided scientific and technical assistance to the Experimental-Industrial Plant, the Scientific-Production Association "Ashgar" and other residents of the ANAS High Technologies Park.