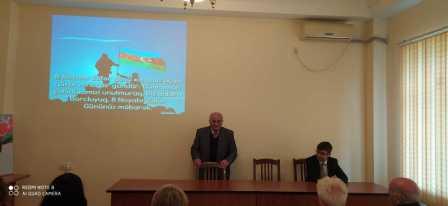 Academician  A.Guliyev Institute of Chemistry of Additives of the Ministry of Science and Education of the Republic of Azerbaijan hosted a festive event dedicated to "November 8 – Victory Day".
Academician Vagif Farzaliyev, General Director of this scientific institution, who delivered an opening speech at the event, which began with the performance of the National Anthem and a minute of silence in memory of the martyrs said: "This day, which is entered with honor and golden letters on the history of the independence of modern Azerbaijan , is included in the Calendar of Significant Dates, because this historic day, which ended the 30-year Armenian occupation, brought joy to our people, which they had never experienced before, and made our citizens proud citizens of the victorious country."
He noted that in the 44-day Patriotic War, the unity of the army, people and state in the form of a strong fist had played a decisive role in achieving our Great Victory. According to him, in achieving the Great Victory, the Supreme Commander, the mighty army and the unity of the people became the "Iron Fist" and crushed the head of the enemy and cleared our ancient lands from him. He congratulated the participants of the event on this glorious holiday.
Then the chairman of the Council of Young Scientists and Specialists of the Institute, Gunay Ismayilova, and other young specialists – Lala Aliyeva, Leyla Vahidzadeh and Lamia Kazimzadeh, made presentations. In their reports, they spoke about the heroism and self-sacrifice of the army and people in the Patriotic War, about the care and assistance that the state and people provided to martyrs and war veterans. At the end, a video dedicated to the 44th day of the Patriotic War and Victory Day was shown.