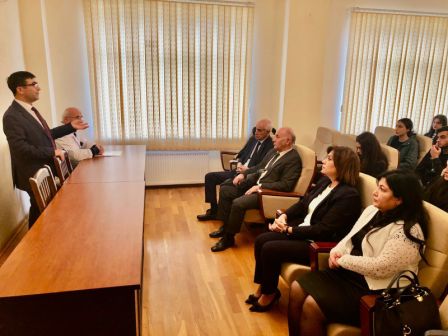 In accordance with the memorandum of cooperation signed between Academician Ali Guliyev Institute of Chemistry of Additives of the Ministry of Science and Education of the Republic of Azerbaijan and the Azerbaijan State University of Oil and Industry (ASOIU), a group of third-year students of the specialty "Chemical Engineering" of this university will study skills. This was announced by the executive director of the institute, doctor of chemical sciences Afsun Sujayev at the meeting with students.
According to him, observations show that, like in other universities, students and postgraduates studying at ASOIU receive a high level of theoretical knowledge in core subjects: "From a practical point of view, there is a need to consolidate this knowledge by coming to the institute after classes and passing practice in research laboratories. Therefore, by mutual agreement, students will be assigned to separate laboratories. Therefore, students will first receive general information about existing laboratories in order to familiarize themselves with the principle of operation. Interesting reports will be made for them on fundamental and applied research and the results obtained at the institute on modern and topical topics. Then they will be divided into small groups according to the laboratories they are interested in."
A.Sujayev noted that during the practice, students will get acquainted with all the instruments and equipment used in the laboratory to study fine organic synthesis and functional properties, visually master their working mechanism, and then they will be able to freely use this equipment when completing the experimental part of their diploma and master's works.
The Executive Director said that at the end diplomas will be awarded to students selected for their activities, and certificates to participants.
A. Sujayev said that in the future it is expected to attract students who are seriously interested in science to joint scientific projects.