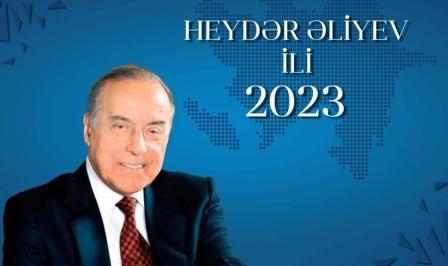 In connection with the implementation of the Action Plan for the declaration of 2023 as the Year of Heydar Aliyev in the Republic of Azerbaijan, a number of events are planned to be held at Academician Ali Guliyev Institute of Chemistry of Additives of the Ministry of Science and Education of
Azerbaijan Republic.
According to the executive director of the institute, Dr. Afsun Sujayev, who informed about this, first of all, a scientific and practical conference on the topic "Role of Heydar Aliyev in the development of oil refining and oil industry" will be held in May of this year.
At the same time, we will dedicate the competitions organized and held for young scientists and specialists "Best scientific report", "Best scientific article" and name awards to the 100th anniversary of the national leader Heydar Aliyev.
A.Sujayev noted that in connection with the announcement of 2023 as the "Year of Heydar Aliyev" in the Republic of Azerbaijan, in April of this year, a knowledge contest "Think about chemistry logically" will be organized for students of Baku schools cooperating with us and demonstration of entertainment experiences, and d
uring the year, the institute plans to organize "open house days" for schoolchildren.
He said that among the main events those are held, there will be interviews of leading scientists of the institute in the press on the topic "Heydar Aliyev and Azerbaijani science", as well as the preparation and publication of author's articles.